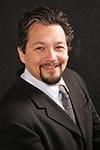 ID Studios, Inc. is proud to announce the promotion of Steven Davis to Associate Principal.
In his expanded leadership role, Steven will have a newly added responsibility as the firm's technical director. In addition to providing both Design Leadership and Project Management leadership, Steven's focus will be to oversee the firm's quality assurance process through all phases of each project, guiding design-constructability reviews, code compliance, and quality assurance reviews for all projects handled by the firm.
"Steven is known for his hands-on energetic approach and for providing unparalleled service to our clients. We are thrilled to bring Steven aboard in this new capacity. His fundamental commitment to excellence will only further ID Studios' mission to provide our clients with timeless and enduring design." says co-founder Deborah Elliott.
Steven has been at ID Studios for five years and brings over twenty five years experience on a wide variety of corporate interiors and retail architecture projects. He holds a BA from Clemson University and is a Registered Architect.