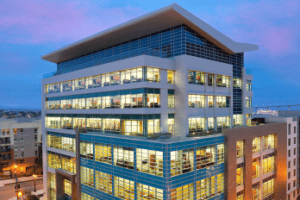 Thomas Jefferson School of Law Dean and President Rudy Hasl has announced that the law school's new downtown campus has achieved Gold Certification under the U.S. Green Building Council's LEED (Leadership in Energy and Environmental Design) Program.
"Going for the Gold" has been Dean Hasl's goal from the moment the new building was conceived.
"From the beginning of the construction process, the School sought to achieve LEED Gold status as a statement of its commitment to sustainability and environmental responsibility," said Dean Hasl.  "Our achievement of this status stands as a symbol of our commitment to responsible energy management and our leadership within the legal education community. We have demonstrated with our investment in this project that we have backed up our rhetoric with tangible commitments."
The new law school was designed and built to be as energy efficient as possible, to reduce the school's environmental footprint and to generate solar electricity for the San Diego Gas & Electric grid.
The process of the final LEED Gold Certification shows that the TJSL campus is a sustainable and enduring environmentally-friendly landmark in San Diego's East Village – as well as a shining example of what a green law school can be.
Rudy Hasl's reputation of being San Diego's "Green Dean" is well-deserved.
To see pictures of this amazing ID Studios, Inc. interiors project, visit and Like our Facebook page.