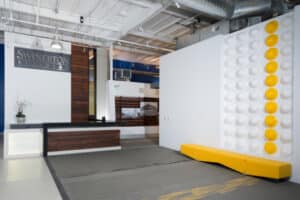 Construction is complete on Swinerton Builders office project. ID Studios provided Tenant Improvement Design and Construction Documentation and Furniture, Fixtures and Equipment for approximately 24,000 s.f. of corporate office space.
The new regional offices include 18'open beam ceilings, open and closed office solutions, the addition of a new entry tower and a new entertainment/break room which connects to an upgraded employee patio via rolling garage doors. Additional features include a prominent boardroom canopy, branding wall, and BIM room. A modern aesthetic was integrated with LEED-focused raw materials.
The ID Studios Team includes Deborah P. Elliott, Steven Davis, Andrew Fordham, and Jill Russell. The Contractor is Swinerton Builders, Mechanical and Electrical Engineer is EXP, Structural Engineer is GSSI Engineers and Landscape Architect is McCullough Landscape Architecture, Inc.
Visit and Like our Facebook Page to see more pictures of this project.