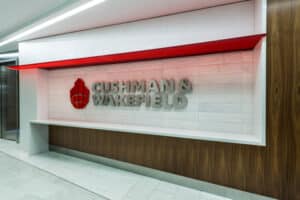 Construction is complete on Cushman & Wakefield's office project. ID Studios provided Tenant Improvement Design and Construction Documentation and Furniture, Fixtures and Equipment for offices located in the LEED Certified, Class A, La Jolla Commons Building, San Diego, CA.
ID Studios designed the new 24,000 square foot corporate office space with a fresh, modern architectural style reflecting the firm's international status. The space includes multiple team collaboration rooms, a flex conference/catering kitchen, open ceiling collaborative office space and a reception lobby that expands to create client and community "event space".
The ID Studios Team includes Deborah Elliott, Steven Davis and Lori Hagen-Hulitt.
Visit and Like our Facebook Page to see more pictures of this project.